Participles as Verbs: Part 1 Backgrounding action within a clause
In the first post of this series we noted that Greek participles are a hybrid form, part verb and part noun, based on the morphological information they contain. We looked at how they are used as substitutes for nouns, and then for adjectives in the second post.
Even though we may talk about grammar in what sound like strict categories, in reality the boundaries can be very fuzzy at times. Grammarians typically divide their discussion of participles into two sections based on whether they modify nouns or verbs, or adjectival versus adverbial. We are going to begin looking at this latter category, but some of the adjectival participles become long and complex enough that they look a lot more like the adverbial ones. The important takeaway is what the participles are doing, not the label one chooses to assign them.
When participles are used to modify full-fledged, finite verbs, the writer's choice to use a participle means they chose NOT to use a main verb like an imperative or indicative. So in the same way that the adjectival use of participles represented the writer's choice NOT to use an adjective or noun, the same kind of choice has been made here. Since one of the prime tenets of discourse grammar is that "choice implies meaning," let's drill down a bit into the implications of choosing a participle over a finite verb.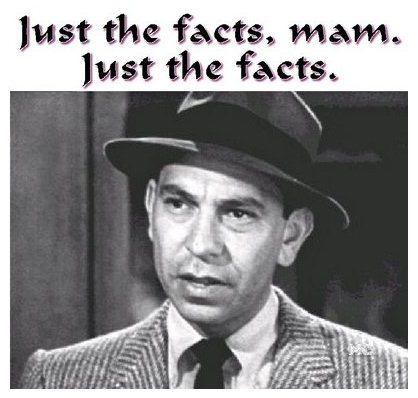 Even though all actions in a discourse are, well, actions, they are not all of equal importance. Think about what it would be like to tell a story or describe something without varying your intonation or using extra words. It would be like listening to Joe Friday from Dragnet.
Robert Longacre famously claimed that discourse without prominence would be like pointing to a black canvas and claiming it was a picture of black camels crossing a black sand desert at midnight. At its core, prominence is all about prioritization of information. There are two basic ways to accomplish this. The first way is to place the thing you want highlighted in the foreground, to make it stand out from the rest.
Okay, well maybe not like this but you get my point. Taking one step (or falling) forward made this soldier stand out from the rest. Making something stand out is what we most commonly think of when it comes to prioritization.
But there's another strategy that is too often overlooked in our preoccupation with prominence and emphasis. We could accomplish much the same kind of prioritization by pushing the less-important information into the background. So instead of having the main actions "take a step forward," so to speak, we could BACKGROUND the less-important actions by having them all take a step backward. The net result is the same—some actions stand out while others don't. The key difference is that backgrounding an action is more like lowering your voice from the normal volume compared to raising your voice to emphasize something. Thus, backgrounding an action essentially downgrades its importance compared to the norm rather than emphasizing something compared to that same norm.
Here are some examples of what I'm talking about. Take a look at Mark 5:24–34 from the Lexham High Definition Commentary. The grayed-out text labeled "Circumstance" represents the actions conveyed in Greek using participles instead of main (indicative) verbs.
All of the backstory to the woman's situation is recounted using participles instead of main verbs. This backgrounds the action with respect to the one main action of this complex clause: the woman touching Jesus's cloak (highlighted at the end of verse 27). If all of the backstory had been conveyed using main verbs it would be much harder to know what action to pay attention to, which was most important of the EIGHT actions conveyed. Notice how "touch" becomes thread through the rest of the story, with Jesus asking "Who touched me?" and the disciples responding essentially, "Who hasn't?" This doesn't mean that "touch" is the most important action in the whole story; all the participles do is prioritize the action within the one clause. That's pretty helpful when there are EIGHT to choose from! Mark's using grammar to background all but one of the actions.
Selectivity versus Prioritization
It is critical to keep in mind that backgrounding an action is not the same as saying it is UNimportant. It is merely LESS important than the main action. After all, if it really was unimportant the writer could just as easily have left it out, right? Think about all of the details omitted from the gospels: we never hear about the weather unless it's really important as in Mark 4:35–41! We don't know much at all about Jesus's childhood other than what Matthew and Luke chose to include. So prioritizing the action is not the first step; writers need to decide whether to include it before they prioritize it.
Now let's take a look at the versions of the same story from Matthew and Luke. Each of the gospel writers differ in what details they chose to include, but they all prioritize them the same. "Touch" is the main verb in each version, regardless of how many details they backgrounded. Compare Mark 5:25–34 to Luke 8:43–48, and Matthew 9:20–22, respectively.
Note that Luke doesn't include any details about the physicians making her condition worse instead of better, but does include her spending all her money and the length of time she had suffered. Luke also excludes details about woman hearing reports of Jesus, but the same action is selected as the main verb of this larger complex: touching. Now take a look at Matthew's version:
Matthew's version is more like what we'd expect from Joe Friday—just enough to get the picture of her situation without anything extra. Nevertheless, Matthew's version still agrees with the others when it comes to the prioritization.
Why are there differences in the amount of detail? It might be attributable to differing degrees of access to the information, but it may also be a case of the writer exercising the same kind of editorial prerogative that we do today in selecting what to include in a story. But the important thing is paying close attention to the grammatical choices the writer makes.
If you look at the High Definition New Testament (HDNT) text from the ESV you'll see that most of the backgrounded participles are translated as main verbs in English. Why? Because Greek isn't English; we don't use participles like this. But the great thing about the HDNT is that you can still see key details of the Greek text preserved in the display. Every particle used to background an action in the New Testament is grayed out in the same way to remind you about the writer's choice.
If you enjoyed today's post, make sure to like and share it with your fellow grammarians. Check out the Lexham High Definition New Testament and the Lexham Discourse Greek New Testament Bundle to make your research stand out. And don't forget to check back every week for the next installment of HiDef Mondays.